Recommended Reading - Recommended Drugs - Recommended Listening
I am really getting into Rose Tremain's Music & Silence.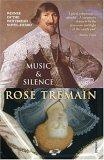 Music. Silence.

Two excellent reasons to live.

Desperately broke King Christian of Denmark melts his silverware for the treasury as his mad dowager mother Queen Sofie secretly hoardes the country's gold and pale-eyed lutenist Paul despairs of regaining his destinied lover Emilia who was whisked away by her mistress Kirsten the pregnant Royal consort who is into S&M with Otto the German Ambassador as the lutenist ex-lover's Francesca whose Irish Count husband Johnnie O'Fingal has died after finding that the soundtrack to the dream he had of perfect music was written already threatens to come to Denmark, upsetting everybody's hopes of happiness and calm. Halfway through. I'm really rooting for big ugly King Christian to find a way out of this - maybe Francesca's father's plan for a paper-mill will solve his income issues after all, or will Kirsten's plotting and Sofie's insane hoarding make everything turn into yet another tragedy in the beetling battlements of Elsinore?

There's nothing rotten in the plottin' of this Danish historical/philosophical/musical/erotical story. And the writing is just superb: 231 pages in and she she still cares enough to describe the day this way - "It is a cold day that Kirsten chooses. Grey-upon-grey are the folds in the sky as she and Emilia set out..." grey-upon-grey are the folds in the sky - isn't that marvellous line?

Previously, I also was totally captured by one of Tremain's other masterpiece's, "Restoration", which was filmed in a sort of Greenaway style a dozen years ago with rather lost Robert Downey Jr at the height of his cocaine fuelled craziness.

Yes, I know I should be preparing the Powerpoints for next month's training, but when a book as good as this has you, fnck, it really has you...

~~~~~~~~~~~~~~~

Went to the neurologist this morning and had a series of painful nerve conduction tests - ZAP! Wow! Kapow! - which of course didn't show anything abnormal. He has put me on something new to help ease the nerve pain of my feet - he thinks the toe pain to be of a seperate aetiology than the ball of the feet pain...

E@L has joined the Prozac Nation!

Almost. Efexor helps relieve the pain of peripheral neuropathy in diabetic patients, so he is trying it on me in the hope of some benefit. No promises, but if doesn't help the pain at least I won't be so depressed about it!

Efexor, which is primarily listed as an anti-depressant, is not an SSRI like Pozac, but a seretonin AND norepinephrine re-uptake inhibitor. Norepinephrine is anti-adrenaline. Expect lots of CALM, cheery, probably maudlin soupy crap from this blog (like the above book review) in future due to my upcoming rosy disposition. How sad.

Still whatever works, as The Happiness Myth asserts - medication, meditation, music, more drugs, more music, drugs...

Music?

~~~~~~~~~~~~~~~~

Did someone say music? I told you all once how I really like John Martyn's Spencer The Rover. Here he is as a younger man, playing it with string accompaniement: beautiful song, wonderful voice, terrific musicians; what a mood altering performance!


~~~
Damn, can't embed, so click here...
~~~




And here is what only 10-12 years can do to you if you insist on drinking at least 6 cans of beer (Fosters, when I saw him in Melbourne) on stage during each performance*:





And Maybe You've Never learned how to play May You Never? Well, there May Never be a better example for You than this slow-mo version - excellent, even I could follow it. I don't think it's *exactly* how John plays it, but it's close enough for an old man like me.






Copy, learn, play and enjoy.

~~~~~~~~~~~~~

And then put on your favorite John Martyn (or whomever) album, get a good book - something by Rose Tremain would be good to immerse yourself into while music fills your inner silence - and let the S&NRI's kick in.

E@L


* comment on YouTube: "When this guy used to play the club scene you always knew he was finished when he fell off his stool."

MORE...
OTHER MONKEYS SAID
That's odd. Or maybe it isn't. I just read 'Snuff' by Chuck Pahlaniuk. Didn't care for it much.
Dick: What's odd? That I'm reading historical dramas and you're reading post-modern porn?

I believe Pahlaniuk tends to workshop his stuff at his writing classes, so maybe his students wrote this one - like who really painted those Raphaels?

Choke is coming out as a movie, I see.
"What's odd? That I'm reading historical dramas and you're reading post-modern porn?"

It was sort of an in joke about synchronicity that didn't come out right. Choke as a movie you say...I am underwhelmed.
THIS MONKEY SAYS