William Hazlitt: The Man, The Essay, The Biographer.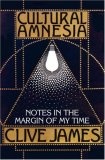 I just grabbed Aussie innerlectual Clive James' latest hefty magnum opus, "Cultural Amnesia - Notes in The Margin Of My Time", from the Joondalup Dymocks ("Sorry to keep ya' waitin', love!") and lugged it back to the hotel. There are a hundred-plus short essays on cultural identities throughout history. I thought this would be good. Might learn something.

I've always looked up to this man (he is tall! [or isn't he? I couldn't find out on the web in a 2min research so fuck it]) because he was brave enough to wear a shirt with the collar so tight he couldn't do up the top button under his crooked tie on LIVE TV!

To give you an idea of this huge man's huge blooming knowledge and innerlectual and wider-than-the-required-reading-list skills, let me just mention the characters he has things to say about under the letter A section.


Anna Ahkmatova
Peter Altenberg
Louis Armstrong
Raymond Aron
How many did you get? I got 2 out of 4. Feel stupid? So you should, we are talking about a famous TV personality who knows more than you. More than fucking everybody! And he's Australian!
Wouldn't you have just hated sitting next to him in school? The smartest, stuck-up, snot-nosed (but funny kid) in class. Martin Amis, Woody Allen; you know the type.
~~~~~~~~~~~
I just read through, at random, one of his essays.
Willam Hazlitt
Yeah, me too. At random, like I said.
William gets fairly short-shrift in this essay. I really feel I know much less about the man after I read Clive's take on him, but a lot more about Clive James.
William, for example, had a " comprehensive grasp of contingent reality". Grasping: Tick. " 'Well, I've had a happy life,' was a large-hearted thing to say when he died poor." So, when he died rich he said something else? Cardiac enlargement: Tick.
Turns the page: oh hang on that's just the introduction to the essay! Sorry.
Oh here it is. Mmm, not much about Hazlitt in this essay really, except to say that he writes better prose than Milton, who was a poet, not as good prose as Burke (Edmund, not
Robert O'Hara
) and that he probably plagiarised ("echoes are … rarely accidental") the "rhythm, pace and melody " of a sentence from Sir Thomas Browne, which makes him, what... less of a prose stylist but a better songwriter? (Note to Clive: Hazlitt would eat you for lunch, boyo.)
What is always impressive with James is the prodigious memory. Who can he can remember how to spell all these people's names?
Cast of Characters
: Willliam Hazlitt. Henry Adams. Ortega. Burke. Shakespeare (a deliberate misquotation of what someone does NOT say in the movie of a play he didn't write - must be some sort of Aussie humour?). Milton. Philip Roth. Milan Kundera. Kafka. Hemingway. Ronald Firbank. Martin Amis. Saul Bellow. Laforgue. De Musset. Leonardo Di Caprio (not Da Vinci!). Kate Winslett. Monet. Frankenstein. G. Bernard Shaw. T.S. Eliot. Flann O'Brien. James Gibbons Huneker. H.L. Mencken. George Jean Nathan. John Reed. Alfred Rosenberg. Gore Vidal. Disraeli. Oscar Wilde. Kingsley Amis. Hitler. Sir Thomas Browne. Kenneth Clark. (What, none of the Mrs Amis's?)
Whew! No room left for poor Willy will all those hugely important people in the coach.
~~~~~~~~~
My main concern is that none of these people mentioned are included as subjects themselves in Smart Vivian's Big Book.
Damn, because I really want to know even less about them now as well.
E@L
p.s. I am just taking the piss here, because I do actually admire Clive James immensely - very smart, very funny.
MORE...
OTHER MONKEYS SAID
I regard him as quite english now. He used to present a film show I used to watch. He is part of that that name dropping clique that includes Melvyn Bragg amonst others.

Hazlitt, Milton, Wilde, Behan, Blake - I would like a guy as smart as he is to tackle bigger questions.
Like his ex-girflfriend (or am I inventing that) Germaine Greer, Clive was lost to the care and concern of most Australians after boarding the slow, drug-addled boat to England in the 60's, until he burst(! or blundered?) onto our TV sets in the late 80's (was it?) with his immensely amusing travel shows.

But, re: that, he critizes Hazlitt for "practicing" his aphorisms, well bugger me silly if Clive doesn't read his jibes off the tele-prompter...

However I sympathize with his quest and admire it. I saw a talking heads show with him and Marty Amis - my God, the way they discarded L-F Celine: ah, he was anti-semitic, the influence of his style and his books are not worth debating.

By bigger targets you mean more contemporary ones? Hey he tackles Michael Mann, Margaret Thatcher AND Beatrix Potter!
Marty's own father was 'mildly anti-semitic' whatever that means. See 'Experience'. If you haven't already.
As opposed to VEHEMENTLY anti-semitic like say, Mel Gibson? Or 50% of catholics and protestants? And 99% Palestinians and or Iranians?

I would vote for Barry Humphries as cleverest Aussie. Erudite, inventive and contrarian.
Something like that. Mildly anti-semitic is when you only like some Jews. Or only hate some of them a little bit. You'd have to get Marty to explain.
Good call, Stevieboy: Dame Edna is fun at the pisstake, but the late Sandy Stone is a Beckettian marvel of pure hot water-bottle existenialism. Terrible to admit I have never seen Bazza on stage! My life is...

His novel Women In The Background is also thoroughly recomended.

Dick: or some of the jews all of the time, or all of the jews some of the time. Or, like it matters if you're jewish or not, so long as you're not a Zionist. Or Welsh.

THIS MONKEY SAYS