Kopi and Kaya Toast
The Kaya Toast Trials of E@L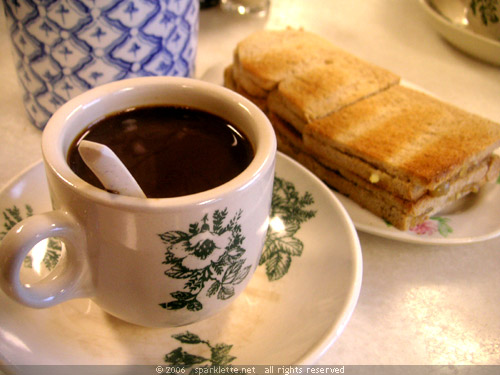 There've been some staff change in the Wang's kaya toast outlet in HFC and this sort of disruption to the smooth flow of the universe can produce Irritable Ang Mo Syndrome in cases of those who, like E@L, prefer the world to follow predictable patterns, to have a rhythm and consistency - they like reproducibility in their lives, it is reassuring and keeps the blood pressure low. No rat moves E@L' cheese and gets away with it. Like, one thing he is used to is getting a shy smile of recognition from the incredibly ugly but accurate kaya toast wench behind the counter every time... he thinks she might fancy him.

~~~~~~~~~~~~~~~~~~~

She was not there yesterday.

E@L: Kopi and kaya toast
New Wench1: Kopi?
E@L: Kopi. Take away.
New Wench1: [To kopi maker who exaggerates all pouring, mixing and stirring motions like he was *miming* making kopi rather than actually making it] Kopi bau. [To E@L] Kaya and BUTTER toast?
E@L: [Not really listening] What? Toast, kaya toast. Like I normally get.
New Wench1: Butter?
E@L: Kaya toast! [Shrugs. Mumbles.] Sure, like, what else do you mean?

4 minute later E@L watches the New Toast Maker1 spread kaya on the toast but fail to add butter. He sends it back.

E@L: [Red in face and claw, holding his cooling coffee in a swinging plastic noose] Kaya toast, like I always get. OF COURSE with butter!
New Manager: [Intervening] You want kaya AND butter on your toast?
E@L: Of course I do. Doesn't everybody? Kaya toast, like I've been having here for over a year. Why all of a sudden is it so difficult? I've never had to specify with or without butter before.

4 minutes later.

New Manager: [hands E@L a paper bag of kaya BUTTER toast inside a small plastic bag.] We sorry, here you are, sir.

E@L removes the paper bag from the plastic bag and hands the latter back to the manager.

4 minutes later in the office and the coffee is cold.

~~~~~~~~~~~~~~~~~~~~

She was not there today.

E@L: Kopi and [pause] toast. [Hands New Wench2 the correct change.]
New Wench2: Kopi?
E@L: And toast.
New Wench2: [looks at money in her hand with a sense of wonderment.] Kopi?
E@L: Toast! [He pauses, but there is no sign of understanding from New Wench2.] Toast! Toast! [Has he lost his voice, with only him not being aware of it?]
New Toast Maker2 [wasn't he the manager yesterday?]: [whispers to New Wench2] Toast.
New Wench2: [Aha!] Toast! [Accepts E@L's money finally and keys the amount into cash-register. To Kopi Maker/Mime artiste] Kopi bau.
Kopi Maker: [gets ready to pour, pauses just before doing so. Looks pointedly at E@L] Kopi?
E@L: Yes, fucking kopi! [Mumbles. Shrugs.] What is it with you people lately?

4 minutes later E@L watches New Toast Maker2 sprinkle cinnamon onto some buttered toast, cut and place the toast into a paper bag... And New Wench2 puts the paper bag in a plastic bag and gives it to... the guy beside E@L - sigh.

30 seconds later E@L gets his kaya BUTTER toast inside a paper bag, inside a plastic bag. He removes the former from the latter, gives it to the New Wench2 and goes up to his office.

Sigh. The kopi is hot.

~~~~~~~~~~~~~~~~

How to vent? Ah, blog!

E@L

MORE...
OTHER MONKEYS SAID
You are the most adorable person ever!

If I could I would just tuck you under my arm, take you home and keep you in my closet. Everytime I'm bored I'd take you out and demand you entertain me!

*cuddles*
Oh dear. Maybe you should switch to hot chocolate for a week or two.
it could be worse...i suppose ;)
VPS: the day you could tuck ME under your skinny little girlie arm... !!!

However the closet concept has possibilities - have you seen Blue Velvet?

Dick & Sav: There's a Starbucks right next door, but the drink I was after needed to taste like coffee. And they don't do toast: no kaya, no butter, no toast...

However, I'm not quite the acculturated Singaporean yet in that I don't have a Kopitiam (Kopi Time!) Discount card for the hawker-food stalls. Or a Sentosa annual pass (yet).

aside: I went with a guy from Hewlett-Packard medical (Agilent at the time - I called them Negligent) to a Starbucks in New Hampshire once and he ordered a low-fat vanilla soy-milk, not too hot please. I ordered a double shot espresso with a half-gram of cocaine flavoring. We never worked together again.

rollin around your brain...
The doctor he tell me 'gain and again
Say the caffeine'll kill ya but he won't say when...

Caffiene, sure rolling round my brain.

(John Martyn does a very nice version of Cocaine on his first album, "London Conversatons")
check your spam folder - just realised I sent it from work.
nothing..and i checked both email adresses...can you resend to my gmail?
btw, sugar..thanks for adding me to your blogroll
hahaha! this entry rocks. :)
THIS MONKEY SAYS